Flat Bed Transportation Options
Get customized solutions for oversized freight, shipments that require side loading, locations without a loading dock and items that require a crane for handling. From tarps and straps to special permits and escort vehicles, we coordinate the details — and it's all included in your price quote.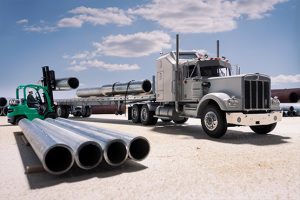 Common flat bed shipments include:
Construction site equipment
Petrochemical equipment
Electrical units
Raw materials
Shipping containers
Select the type of flat bed trailer that fits your needs:
A standard flat bed trailer is a flat trailer with no enclosures or doors, so it can be loaded and unloaded from the top, sides or rear. Tarps are often requested with these types of trailers, and they're commonly used to ship heavy loads including machinery, lumber, steel products and construction equipment.
A stepdeck or dropdeck trailer is similar to the standard flat bed, but it features a lower deck. The lower deck on these trailers allows for hauling taller loads that can't be transported on a standard flat bed. It is commonly used for hauling loads like machinery, tractors, containers and heavy freight up to 10 feet tall.
A double drop trailer is commonly used for oversized freight over 10 feet tall. It's designed with a "well" that dips below the trailer axles, with space ranging from 25 to 29 feet. This type of trailer is ideal for transporting items like construction equipment, vehicles and forklifts.
A removable gooseneck trailer (RGN) is a specialized lowered flat bed trailer that's used for hauling loads up to 12 feet tall. The neck of this trailer arches so that it becomes a ramp when it is lowered, allowing the front tires of equipment to be driven or pulled onto the deck. RGNs are frequently used for heavy machinery like bulldozers and industrial equipment.
Extendable Flat Beds are also known as flat bed stretch trailers. Though an extendable RGN is more common for loads that are too long for transporting on a standard flat bed trailer, the extendable flat bed is a potential solution.
Curtainside trailers are designed for freight that requires side-unloading but needs to be protected from the elements. They can be a dry box with tarp sides or a flat bed with a frame of squared ribs supporting a tarp. These types of trailers are commonly used for shipping windows and doors, lumber, piping, building materials and metal products.